Raven Cumberbatch

Vital statistics

Position
Unknown
Age
Immortal, for awhile until he wishes to grow older
Status
Unknown

Physical attributes

Height
5'11'
Weight
Unknown
Raven Cumberbatch


I was born Raven Robert Cumberbatch, and married Nyx Clearwater, a vampire girl. I did this against my wolf packs will. Us vampires and Wolfs don't tend to get along too well... Nyx and I have h. She died however, and I'm looking for a girlfriend.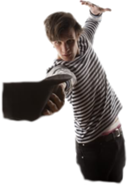 Appearance

Derek has short brown hair, and greenish blue eyes. He stands at 5'11', and is slim.
Trivia
He is bisexual
He is taken by Nyx Clearwater
His model is Matt Smith. Some of his pics are from Doctor Who.